TopRow Beginner Rowing Course
Learn to row on the Putney Embankment
weweekly , The Toprow beginner course is an introductory programme designed to teach the fundamentals of rowing. This eight-week course is suitable for complete beginners, with no prior rowing experience needed. Our experienced coaches provide guidance and support, allowing rowers to focus on mastering the basics of the sport and progress at their own pace.
Our beginner course is a fantastic opportunity to try something new, improve one's fitness and have the chance to row on the river Thames' famous waters, with its stunning views and rich history!
When you sign up for the TopRow beginner course, you will row at the same time and day every week. Based off your preferences, we will allocate you a 1 hour slot which will repeat weekly for 8 weeks.
The next beginner course will begin in March 2024. Due to weather and safety concerns, we do not run beginner rowing courses during the winter. 
Overview of the course:
1 hour per class
Suitable for complete beginners/novices
Learn basic technique in theory and practice
Coaching and guidance from our rowing instructors
Learn to row in stable rowing shells (LiteBoats)
Each course is 8 weeks long.
When you have finished the Beginner course, you can deepen your understanding in our Development course!
Experience
No previous experience required
Duration per course
8 weeks
Commitment
8 lessons of 1 hour each
Start dates
Annual program
Cost
£249,-
Location
Embankment, Putney,
London SW15 1LB
map & directions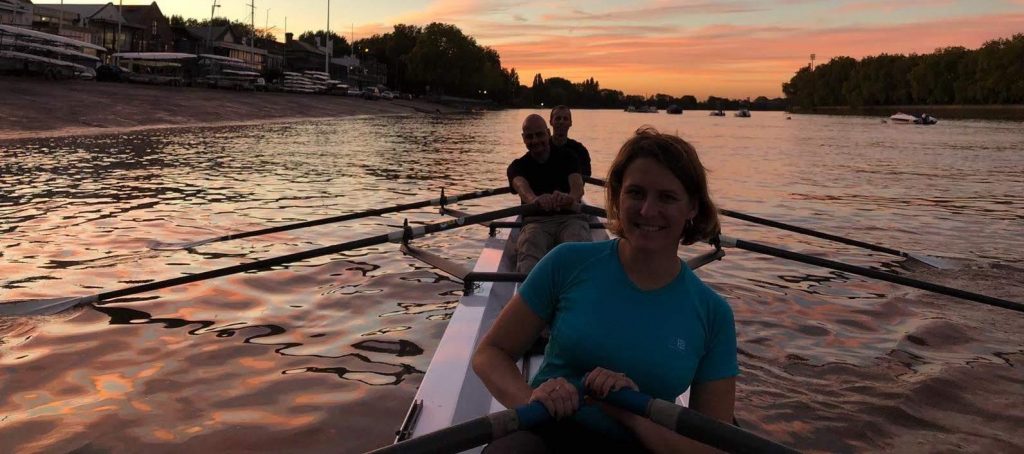 Our newbie rower Maggie has written a blog about her experiences during the first two Learn to Row courses. Please have a look and get an nice insight in our program.
What class should I sign up for if I have never set foot in a boat?
Our Beginner course is perfect for anyone who is new to rowing on the water!
What happens after I complete the Beginner course and I want to row more?
Sign up for our development program! An eight-week course that allows you to take your skills to the next level.
Do I need to know how to swim?
To join our adult rowing programs, yes. Rowing takes place on the water, and while falling out of the boat is very unlikely, it is possible. Therefore, each class participant must confirm that they are able to swim when they register for our classes.
Do you require a swim test?
We do not require adult rowers to pass a swim test. They must confirm during registration that they can swim.
What is the refund/credit policy?
No refunds will be given once the program has started. If you withdraw at least two weeks before the first session, you will be credited for the class, minus a 40 pounds processing fee.
Do I need to attend all classes?
Since the skills you learn in rowing are cumulative, it is important that you make every effort to come to each class so you learn along with your group. You should communicate with your coach in advance if you cannot make a class.
Can I make up classes that I miss?
We offer make-up sessions on a selective basis, depending on availability. We must receive notice of absence 48 hours in advance in order to be able to offer make-up slots.
Do we still have class in inclement weather?
Yes! We row on the water in the rain and the cold, but if there is thunder and lightning or it is very windy, we have an alternative training. Classes will not be rescheduled due to weather.
What should I wear?
Layers are your best bet for cold weather rowing. Keep in mind that the clothes you wear will very likely get dirty so please wear clothing that you do not mind getting wet. It is best to wear form-fitting clothing like Lycra. This type of clothing is less likely to get in the way while rowing.
Are there showers and changing rooms at the boathouse?
There are showers and a small changing room. Feel free to change once you arrive at the boathouse.
Where can I park?
Parking at the Putney Embankment is not advisable, however, there are some limited streets to find parking.